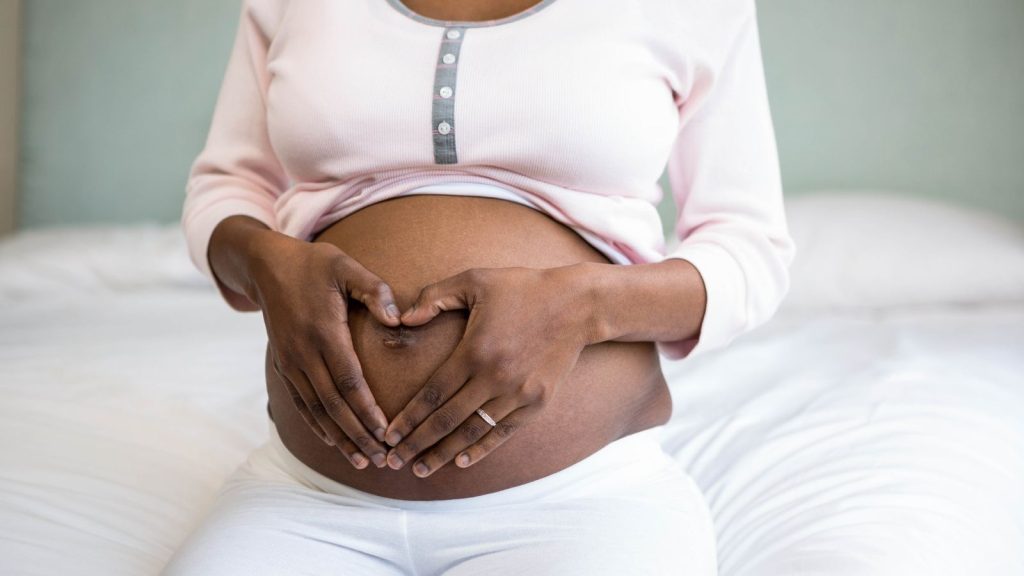 A Mother's Heart: The Importance of Heart Health for Mom and Baby
As an expectant mother, it's likely your heart is feeling lots of things. Full of love for your unborn baby. Full of fear of the unknown. Full of excitement and full of nerves. While all these heartfelt emotions are to be expected, during pregnancy, it's also especially important for your heart's physical health to be a priority.
February is American Heart Month, a time to raise awareness of the importance of cardiovascular health and embracing a heart-healthy lifestyle throughout all stages of your life – including pre-pregnancy, during pregnancy and post-childbirth.
According to the American Heart Association (AHA): "Cardiovascular disease accounts for more than 1 in 4 pregnancy-related deaths in the United States, and rates of pregnancy-related complications have been climbing. Nearly 1 in 5 pregnancies are complicated by high blood pressure, gestational diabetes, premature births, or low birth weights. High blood pressure disorders such as preeclampsia and eclampsia have nearly doubled over the past decade. These types of adverse pregnancy outcomes have been shown to raise the risk for cardiovascular disease later in life for both mother and child."
AHA also reports that Black women are disproportionately affected by these complications.
All of this data led AHA to release a statement earlier this month highlighting the need to address women's heart health pre-pregnancy to reduce the risk of pregnancy-related heart complications, particularly in populations in which social and environmental factors put them at higher risk. The organization calls for the need for more research on the heart health of women of reproductive age in order to uncover cardiovascular concerns and intervene at an earlier stage – prior to pregnancy.
Once pregnant, there are a number of things you can do to keep your heart healthy for your and for your baby. These include keeping your blood pressure, blood sugar, total cholesterol and body mass index at health levels; not smoking or drinking alcohol; and eating a nutritious diet. Studies even show that what you eat during pregnancy can affect your child's heart health later in life.
Serious Pregnancy-related Heart Conditions: Know the Signs
Two potentially serious conditions can affect your heart health during pregnancy. These include preeclampsia, a type of high blood pressure that occurs only during pregnancy, and gestational diabetes, a type of diabetes that occurs only during pregnancy. It causes your blood sugar to spike, but it also can greatly raise your risk of developing preeclampsia.
According to the National Heart, Lung, and Blood Institute (NHLBI), you are at increased risk of preeclampsia if you:
• Are older than age 40
• Are pregnant for the first time
• Had preeclampsia during a previous pregnancy
• Have chronic (long-term) high blood pressure, chronic kidney disease, or both
• Are pregnant with multiple babies (such as twins or triplets)
• Became pregnant using in vitro fertilization
• Have a family history of preeclampsia
• Are Black or African American
• Have type 1 or type 2 diabetes prior to pregnancy
• Have obesity
• Have lupus (an autoimmune disease)
• Have a history of a condition called thrombophilia that increases the risk of blood clots
Preeclampsia occurs after the 20th week of pregnancy and can occur up to six months after giving birth. NHLBI advises that pregnant women pay attention to their body for changes like swelling in the hands and face, sudden weight gain over one to two days, or weight gain of more than two pounds per week. Other symptoms of preeclampsia include headache that worsens or won't go away, trouble breathing, pain on the right side, less frequent urination, lightheaded or faintness, and vision changes. These require medical attention.
PowerMom Puts the Power of a Healthy Pregnancy in Your Hands
When it comes to heart health during pregnancy, knowledge is power. Arming yourself with the information about risks, symptoms, and warning signs – and monitoring your heart rate and other important heart-related numbers through tools like those provided by PowerMom – can help keep your heart healthy this Heart Month and throughout your entire pregnancy and beyond. 
Learn more and get started on the PowerMom website today.