3 Notable Quotes about Black Maternal Health from a PowerMom
Dr. Toluwalase (Lasé) Ajayi is the lead researcher of the PowerMom study. She is also a board certified Pediatrician who completed a fellowship in palliative medicine, and her primary speciality is in pediatrics. Above all, she is a PowerMom.
Dr. Lasé went through her second pregnancy during the pandemic. She knows how scary it can be to not have the information needed due to the lack of research on pregnant people. The following quotes on black maternal health come from her expertise and experience.
Here are 3 Black Maternal Health quotes from Dr. Lasé, where she addresses racial disparities in maternal health:
First, she addresses the importance of learning from history so it does not repeat itself.
"It's a vicious cycle. We don't participate because of what happened to us in the past, but because we don't participate, we don't get the data that we need to see to feel comfortable."
In an interview with Marie Claire, Dr. Lasé discusses why she chose to get the Covid-19 vaccine at 32 weeks pregnant. She notes that a main concern of hers was the fact that there weren't pregnant women enrolled in the vaccine trials. Another concern was the disproportionately low number of minorities who participated in the trials (Racial Disproportionality in Covid Clinical Trials).
An explanation for these statistics is fear surrounding historical racism. Dr. Lasé and her team are addressing this in PowerMom FIRST, a sub-study of PowerMom. In this study, the team is exploring how maternal and fetal health among Black and Hispanic people is negatively impacted by systematic racism and discrimination.
Second, she speaks to her experience in getting the Covid-19 vaccine as a pregnant, Black woman.
"I just took a selfie and said: I'm doing this and I'm sharing this because I was also one of those Black women who was nervous about getting the vaccine, but I'm doing it because I know it's better than getting the disease."
Dr. Lasé is a trusted source in her community. She uses her platform to share her experience and expertise while addressing racial disparities in maternal health.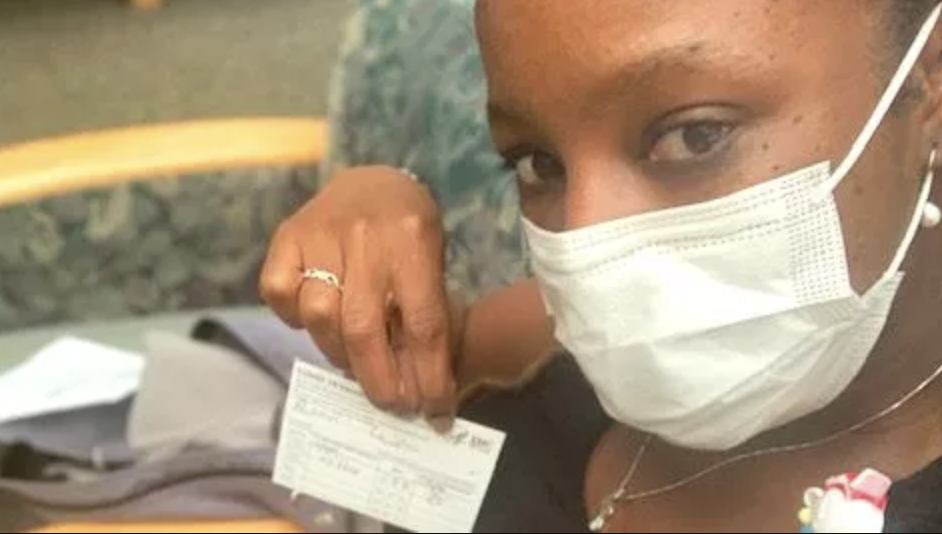 Finally, Dr. Lasé addresses why these discrepancies may exist.
"A large part of health discrepancies for pregnant people is not included in research in general. Add the demographic of people with color and the statistics will increase significantly."
Dr. Lasé was recently interview by AfroTech. In this interview, she describes PowerMom as an avenue to meet participants where they are, build community, and share information.
We are so proud of Dr. Lasé and the entire PowerMom team for the work they are doing in addressing racial disparities in maternal health, mortality and morbidity.
The PowerMom app is powered by MyDataHelps™ and is available via Google Play and the App Store.
References
PowerMom, Powermom.scripps.edu
Why I Chose to Get the COVID-19 Vaccine at 32 Weeks Pregnant, Marie Claire
Racial Disproportionality in Covid Clinical Trials, The New England Journal of Medicine
Black Women Researchers Funded by Google to Find Solutions to Maternal Morbidity, Mortality with Fitbit, Black Enterprise
Google Supports Maternal Health Researchers Through Fitbit Health Equity Research Initiative, Afrotech