Summary
PowerMom Connect is a new, paid sub-study within the PowerMom platform focused on supporting mothers during the postpartum period.
Participe
Highlighting PowerMom Connect: a paid research study on postpartum maternal mental health
What is PowerMom Connect?
The PowerMom platform, which launched in 2021, invites pregnant people to collect and contribute important pregnancy-related health information through app-based surveys and wearable sensors.
PowerMom Connect is a new, paid sub-study within the PowerMom platform. It is focused on supporting mothers during the postpartum period. In this post you will learn more about this sub-study, why the research is important, and how to participate.
The Postpartum Period
For nine months, you carry your baby knowing that your life is about change. The nursery is set, and your friends and family eagerly await the arrival of your bundle of love. But when the baby arrives, you may feel sad, moody, or isolated.
If you do, you are not alone. Many Moms experience these "baby blues", which may begin within the first two to three days after delivery and may last up to two weeks (Mayo Clinic). Mood swings, crying spells, anxiety and difficulty sleeping are among common symptoms.
When these symptoms continue and become more severe, it is called postpartum depression. Around one in eight new Moms can develop postpartum depression (NIH, 2020). Many new mothers may go undiagnosed for a variety of reasons. Conflict in privacy, hesitancy to disclose feelings to close family members, stigma, and fear of lack of support have been cited as some of these reasons (NIH, 2022).
In order to help Moms in this postpartum period, the PowerMom team at Scripps Research has launched PowerMom Connect, a new paid sub-study focused on supporting mothers during this unique time. Participants in the PowerMom Connect study may gain access to a digital tool designed to help manage your mood in the months after the birth of your baby(ies). Participation lasts for 16 weeks, is free and easy, and all study procedures can be completed through apps on your smartphone.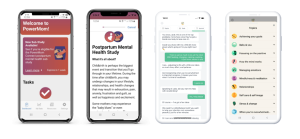 How to Participate in PowerMom Connect
The PowerMom Connect sub-study is only available to mothers who are enrolled in the main PowerMom study. You may join PowerMom at any time during your pregnancy or if you're less than 8 weeks postpartum. Learn more about joining the growing community of PowerMom's. The PowerMom Connect sub-study will become available to you on your PowerMom dashboard after your due date.
If you have any questions, the PowerMom team is here to help. You can reach us at powermom@scripps.edu
Participe