About Aftershock: a film on Black Maternal Health
Aftershock, an original documentary from Onyx Collective and ABC News premiered on Hulu on July 19th.
The film shines a light on the need for change in the Black Maternal Health space in the United States. The following synopsis is from Hulu:
"In October 2019, 30-year-old Shamony Gibson tragically died after being ignored by medical providers 13 days following the birth of her son. Two months later, we began filming Shamony's surviving mother, Shawnee Benton Gibson, and bereaved partner, Omari Maynard, as they began to process what happened and figure out their new normal.
In April 2020, 26-year-old Amber Rose Isaac, died due to an emergency c-section that the family says stemmed from medical negligence. Within weeks of Amber's death, Omari reaches out to Amber's surviving partner Bruce Mclntyre and a lifelong bond is formed. Together, Omari and Bruce begin the fight for justice to their partners with their families and community by their side, while caring for their children as newly single parents.
Through the film, we witness these two families become ardent activists in the maternal health space, seeking justice through legislation, medical accountability, community, and the power of art. Their work introduces us to a myriad of people including a growing brotherhood of surviving Black fathers, along with the work of midwives and physicians on the ground fighting for institutional reform. Through their collective journeys, we find ourselves on the front lines of the growing birth justice movement that is demanding systemic change within our medical system and government."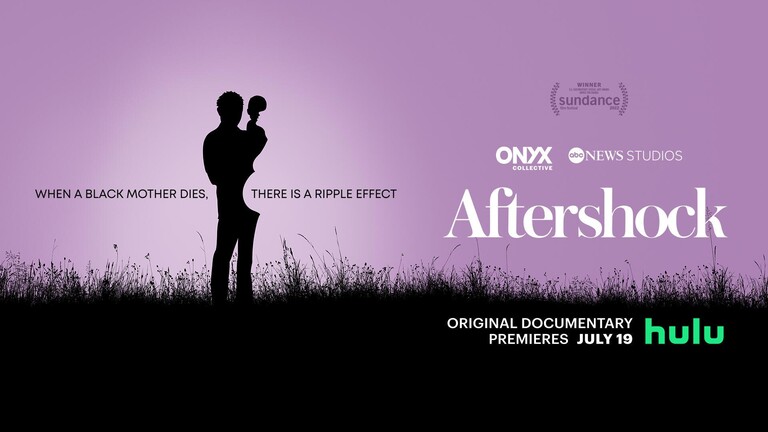 Quotes and Questions for Discussion on Black Maternal Health
Here are three important quotes from this documentary, with questions for discussion to consider:
"Knowledge doesn't save you from this epidemic." – Shawnee Gibson
The facts are stark when speaking about the rate of maternal mortality in the United States. Especially for Black pregnant people. The maternal mortality rate for Black, American Indian and Alaska Native women is two to three times higher than the rate for white women.
Shawnee Gibson, mother of Shamony, has been an advocate for reproductive justice. Despite the knowledge her and her family had on the reality of being a Black pregnant person, it was not enough to save her daughter from passing away from a pulmonary embolism weeks after giving birth to her second child.
Question for discussion: In some instances, knowledge has been said to be power. How could knowledge on this particular topic be channeled to make a difference?
Is there a difference between collective knowledge and individual knowledge?
How is knowledge defined? Communicated?
"A Black woman having a baby is like a Black man at a traffic stop with the police" – Felicia Ellis
Felicia Ellis is a Black woman who thankfully had a positive birthing experience. Despite living in Oklahoma, which has one of the worst maternal mortality rates in the United States. This quote by Felicia points to the blatant racism that contributes to fatalities that could be avoided.
Felicia and her husband decided to work with a doula. They welcomed their child into the world in a birth center rather than a traditional hospital. This documentary highlights resources for not only those who are about to give birth, but for partners who are grieving. The filmmakers noted, "it is a desert out there for Black men as far as support."
Question for discussion: What are some resources that already exist that should be shared?
Here are some that our team have gathered:
"Affirming a person's dignity, seeing them, hearing them, is the way that you make them safe. It is not a luxury." – Neel Shah
Dr. Shah of Harvard Medical School works on health care equity issues and practices. In this quote, he points to the importance of affirming a person on a very individual level, but how can this be applied on a macro level?
Question for discussion: What are steps we can take to make this a reality?
We at PowerMom aim to help achieve equity in maternity care — for ALL pregnant people. We are working towards this goal by involving pregnant people from diverse communities throughout the United States.
PowerMom is a project of Scripps Research, a leading nonprofit academic institution with a focus on research and education in the field of biomedical sciences. Our researchers lead breakthrough studies that address the world's most pressing health concerns. As a trusted nonprofit organization, your privacy is our priority. In order to protect you, your name and personal information are removed from your data prior to it reaching our researchers. Your data is not shared.
When you join the PowerMom study, you'll confidentially share your information with our researchers. You'll not only learn more about what's healthy for your pregnancy, but you may also help researchers uncover patterns and make discoveries about healthy pregnancy.
Are you pregnant or postpartum, living in the United States and have a smartphone? You can click here to begin participating in PowerMom right away.